Legacy Event stepping up the game for gender equality during Ice Hockey World Championship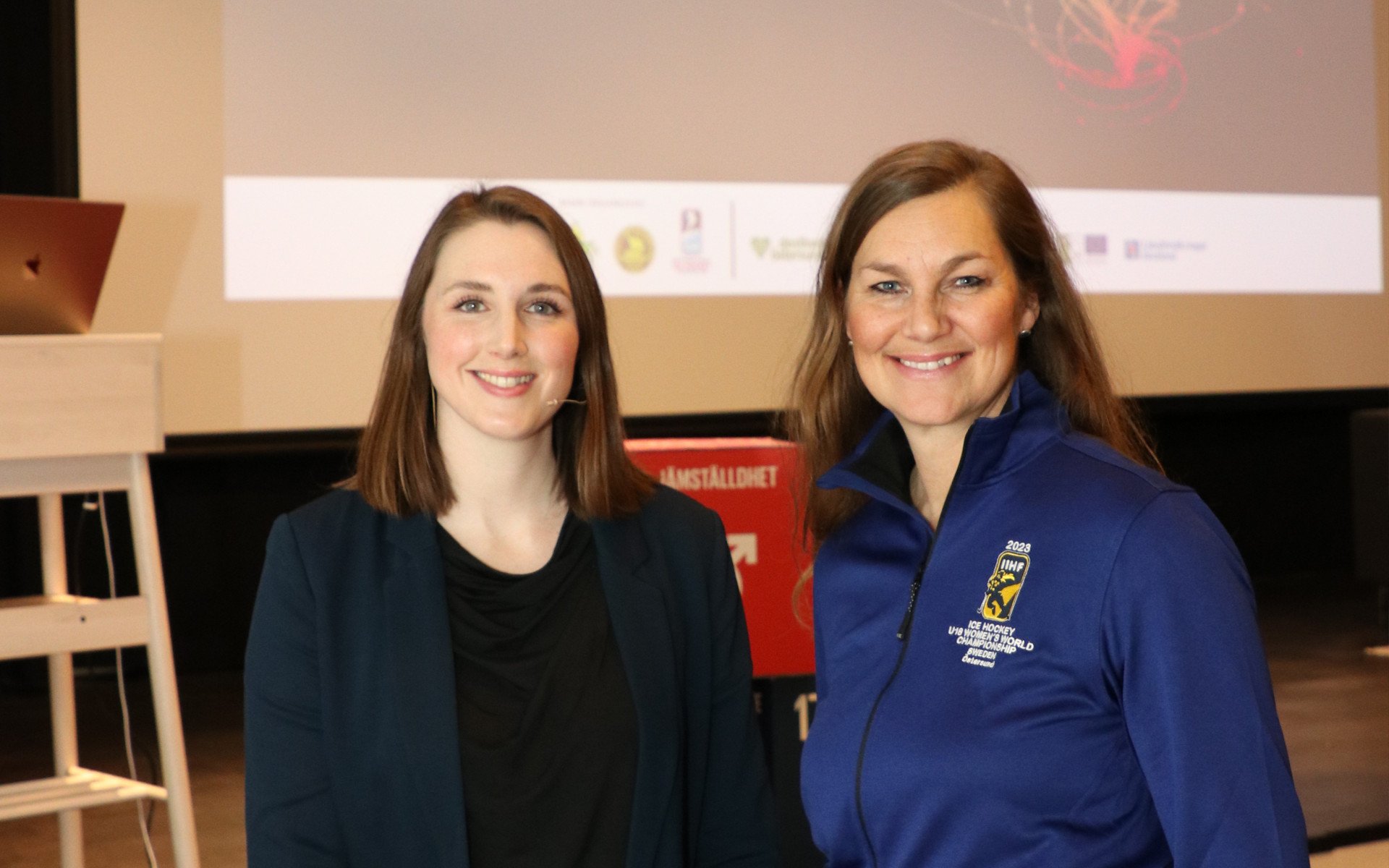 During the 2023 IIHF Ice Hockey U18 Women's World Championship in Sweden we grabbed the chance to step up the game, strengthening work for equality within hockey and sports. Sweden hosted the Championship, in the town of Östersund January 8-15th. One of several side events arranged was a Legacy Event connected to gender equality, locally initiated and with GLOW4equality founder Sara Carlemår assigned as a project manager. A few of the specific outcomes of the event was raised; awareness on areas connected to female athletes, as well as new perspectives and knowledge on gender equality topics.
With the fantastic hockey players in the front - showing their top performance on the ice, the Championship delivered true hockey propaganda - propaganda for ice hockey overall and girls and women's hockey, in particular. The girls, up to 18 of age, played intense, technical, and powerful games, impressing both the great crowd of spectators at the Arena as well as the big crowd of TV viewers. The Championship's crescendo was with Sweden 🇸🇪 - Canada 🇨🇦 in the gold medal game.
- Östersund and the county of Jämtland have a lot of experience in organizing big events, says Lisa Engman, local project manager Swedish Ice Hockey Association (SIF). We created and delivered a World Championship in Östersund. Not a Championship for girls or a junior tournament, but a World Championship. That ambition was with us from the start, Lisa describes, and summing up the event afterwards I see and hear that we lived up to that, and even more. The players delivered their top performance, as well as the event-organization and the city itself. The Legacy Event added an exciting dimension to the Championships bigger perspective, Lisa describes.
The Legacy Event on Gender equality consisted of three theme-days on different relevant and interesting topics; leadership, menstrual cycle and culture. Activating these topics at an international event like this is one to create positive change. The Legacy Event was organized by Östersunds Ishockeyklubb, Svenska Ishockeyförbundet (SIF) International Ice Hockey Federation (IIHF) and Club Support together with Östersunds Kommun, Destination Östersund, Länsstyrelsen, GLOW4equality and Länsförsäkringar Jämtland. Moderator leading the panels as well as one workshop each day was Amelie Rahbek, process leader and consultant with a bachelor in gender studies.
Concept & content
Day 1, 8 January
Benefits of gender equal leadership and importance of representation
Leadership, inclusion, and representation matter in many different ways. The crowd gathering for this theme knows that and they were curious to explore it further to contribute to each other and accelerate the work. The setup came out well and was appreciated among the attendees. Inspiring speakers, interesting panel dialogues and creative workshops. First out was a panel dialogue with Gina Kingsbury and Johan Stark both representing their countries Canada and Sweden as well as the international hockey community through IIHF, the International Ice Hockey Federation.
After that, Alva Stark sucessful and aprishiated Basketball Coach and went on stage and held an inspirational talk addressing the topic from the four pillars of which her leadership is based: Relationships, Expectations, Responsibility, Confidence.
The second panel combined the local and global perspective with different angles from Anders Larsson representing SIF and the IIHF, Marita Ljung local Governor and Micael Olsson President for local hockeyclub Järpens IF .

Speakers
Gina Kingsbury, Director Hockey Canada Women National Team, Women's Committee IIHF

Johan Stark, General Secretary Svenska Ishockeyförbundet, Women's Committee IIHF

Anders Larsson, President Svenska Ishockeyförbundet, Council Member IIHF

Alva Stark, Head coach SBL, Östersund Basket

Marita Ljung, County Governor, Jämtlands Län

Micael Olsson, President Järpens IF
Workshops
1 Creating ideas to ensure gender equal representation. Lead by Sara Carlemår
2 Gender equal participation and strategies in leadership. Lead by Alva Stark och Amelie Rahbek
Day 2, 11 January
Sports performance connected body and menstrual cycle
Did you know that about 60% of female athletes have amenorrhea, regularly missed periods?

Keynote speaker on this theme-day was researcher Martina Höök from the Swedish Winter Sports Rearch Center at Mittuniversitetet. The theme of the day was "Sports performance linked to the body and the menstrual cycle".
Us humans - create life together, but the female body grows it and delivers it. The female body is a superpower in that perspective, in sports performance and others.
We all have women around us – a mother, a sister, a daughter a friend, a girlfriend, a teammate. I believe all participants attending this theme-day found something of interest, relevant right now or in the future. Facts, new knowledge and inspiring ideas on how to address and talk about the menstrual cycle, how it affects you or not, what to be aware of. Menstrual cycle - something that is a natural part of everyday life for half the world's population. And half of the world's athletes.
Following Martina Hööks fact full talk, she attended a panel discussion together with Christiane Loinig Medical committee member and medical supervisor at the IIHF. Insightful dialogues.
Ashley Ehlert and Naomi Bloetjes from the IIHF hosted one of the workshops with a policy perspective and during the other workshop attendees got to dive deeper into how to increase knowledge and communication around female hormones and performance.
Speakers
Researcher Martina Höök - Swedish Winter Sports Rearch Center Mittuniversitetet
Dr. Christiane Loining Velik, MSc. Medical Committee member and Medical supervisor IIHF
Ashley Ehlert, Esq. Deputy General secretary and Legal Director IIHF
Naomi Bloetjes, Integrity Officer IIHF
Workshops
1 Smart policies equal good results: what policies can be implemented at the local level to keep women in the game? Lead by Ashley Ehlert, Esq and Naomi Bloetjes.
2 How to increase knowledge and communication around female hormones and performance. Lead by Martina Höök and Amelie Rahbek.
Day 3, 12 January
Sports as a superpower for creating a positive culture to prevent violence, harassment, and violations.
The final day of three theme-days in the Legacy Event was "Sports as a superpower for creating a positive culture to prevent violence, harassment, and violations". This day Keynote speaker Oscar Alsenfeldt talked about the culture within ice hockey. Oscar talked from own experiences as a professional hockey player, different views, and perspective of what the culture within ice hockey is, that culture never is static, that we can and should keep the good and improve the bad. He also stressed the importance of addressing these issues from all levels.

Connected to Oscars talk it was great to hear how the IIHF is working with these issues. Ashley Ehlert, Deputy General Secretary and Legal Director at the IIHF described their Integrity program and closer the "Abuse and Harassment-pillar". She hosted one of the workshops with her college Naomi Bloetjes, Integrity Officer at the IIHF who also hosted integrity workshops with all present teams during the Championship. Very interesting and inspiring to hear the international community's perspective and contribute to action.

Panel discussion on the topic with Oscar Alsenfeldt, Ashley Ehlert Esq. and Anders Jonsson, Team manager in a junior's team within Östersunds IK. Adressing local, national and international perspectives on how we within sports can address these questions. The workshops following up the theme, the participants got to work specifically on contributing to solutions.
Speakers
Oscar Alsenfeldt, Sports manager, SDHL Svenska Damhockeyligan
Ashley Ehlert, Esq. Deputy General secretary and Legal Director IIHF
Naomi Bloetjes, Integrity Officer IIHF
Anders Jonsson, Junior Team manager Östersunds IK
Workshops
1 Women's perspective of IIHF Integrity program, pillar abuse and harassment. Lead by Ashley Ehlert, Esq and Naomi Bloetjes.
2 The pyramid of violence, a method to prevent violence and harassment. Lead by Amelie Rahbek.
- Not only did we create a platform that raised issues of gender equality, but gave people the opportunity to meet, talk and exchange experiences, Nina Andersson from Club support describes. New insights and the drive to continue the work was fueled. I am incredibly proud of what we have achieved and look forward to more meaningful collaborations on these topics.

- I have meet so many fantastic people and had so many inspiring dialogues prior, during and after the Championship, says Sara Carlemår, founder of GLOW4equality. I am proud of the team making the Championship happen and to have been part of it. Together I believe the event overall created a boost for women's ice hockey, on the ice and off the ice. I hear the buzz and feel the shift! Sports is an important part of society, we are and can be a an even bigger unifying force contributing to inclusion and equality.

Attendees spread and evaluation

The Legacy Event attracted 126 attendees over the three different theme-days. 62% women and 38% men representing USA, Canada, Austria, Switzerland, Finland and Sweden. A survey was conducted after the event to get the participants' view of the Legacy Event. A few quotes:

- Points out areas that need to come to the surface, be discussed and made visible
- Getting new perspectives after discussing the workshops
- Direction-indicators for the future
- Thank you very much for hosting such an amazing event. This has been inspirational to continue with such in the future.
- Finally has someone started to work with all the challenges of being an athlete woman in a male dominate world.
Take part of details on the Legacy Event and the Evaluation
The ripple effects after an event like this is hard to measure but from GLOW4equality's perspective we do see them; new network connections, several attendees have been curious on the concept, Sweden was asked to brief the international community on the successful Legacy Event during IIHF's Women's Hockey Summit in Budapest in February.
Take part of more
See clips from the Legacy Event in GLOW4equalitys Instagram Stories
Read more about the Legacy Event Gender equality.

Read more about the 2023 IIHF Ice hockey U18 Women's World Championship
Contact Sara Carlemår for more information or collaboration in similar events.