GLOW4equality assigned for Legacy Event during IIHF Ice Hockey Women's World Championship 2023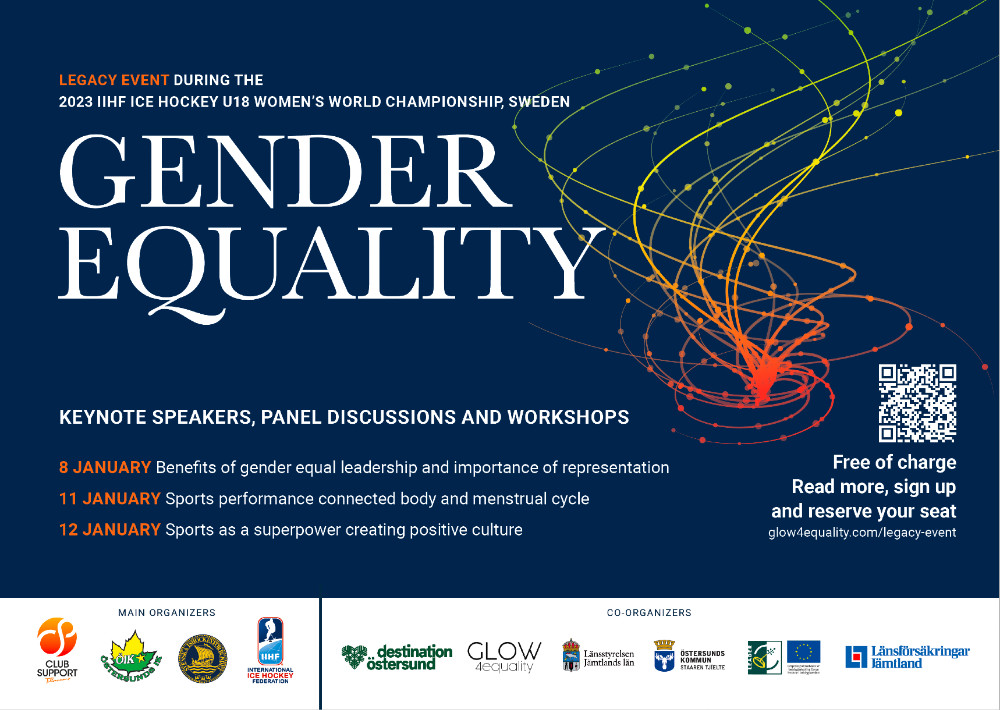 Sweden is hosting the 2023 IIHF Ice hockey U18 Women's World Championship. Svenska Ishockeyförbundet, the Swedish Ice Hockey Association has the ambition to create a world event in Östersund in January, an event leaving a strong legacy. One of several side event arranged is a Legacy Event on gender equality and GLOW4equality founder Sara Carlemår is assigned as a project manager.
- Gender equality is not only a basic human right, but a necessary foundation for a peaceful, prosperous and sustainable world, Sara Carlemår says. Sport is an important part of society, it is and can be an even greater unifying force contributing to inclusion and equality. That is why we are taking the opportunity, in hosting this event, to organize a Legacy Event on various interesting and relevant themes connected to gender equality.
The Championship is held January 8-15, 2023 and the Legacy Event will be held during three of those days. The aim is to increase knowledge, create understanding and enable exchanges of experience, between people and countries. The themes are aligned with the UN Sustainable Development Goal number 5, Gender equality and deeper relevant themes with a strong connection to the context.
8 January: Benefits of gender equal leadership and importance of representation

11 January: Sports performance connected body and menstrual cycle

12 January: Sports as a superpower for creating a positive culture to prevent violence, harassment, and violations
- I love ice hockey as a sport, grew up in a "hockey-family" and am engaged in the local hockey club through my children, Sara describes. That combined with my profession through GLOW4equality lead to the opportunity to set and manage this exiting event. Working with legacy areas connected to events is something that we in our region are good at and engaging people from the local, national as well as the international perspective on these important topics feels great.
The combination of watching world ice hockey and at the same time have the opportunity to take part of interesting and important equality issues is something the organizers are hope will attract visitors.
The Legacy Event is organized by Östersunds Ishockeyklubb, Svenska Ishockeyförbundet, International Ice Hockey Federation and Club Support together with Östersunds Kommun, Destination Östersund, Länsstyrelsen, GLOW4equaltiy and Länsförsäkringar Jämtland.
Read more about the Legacy Event Gender equality.

Read more about the 2023 IIHF Ice hockey U18 Women's World Championship