Global commitment preventing men's violence on women, strong outcome of the coaching program for Cecilia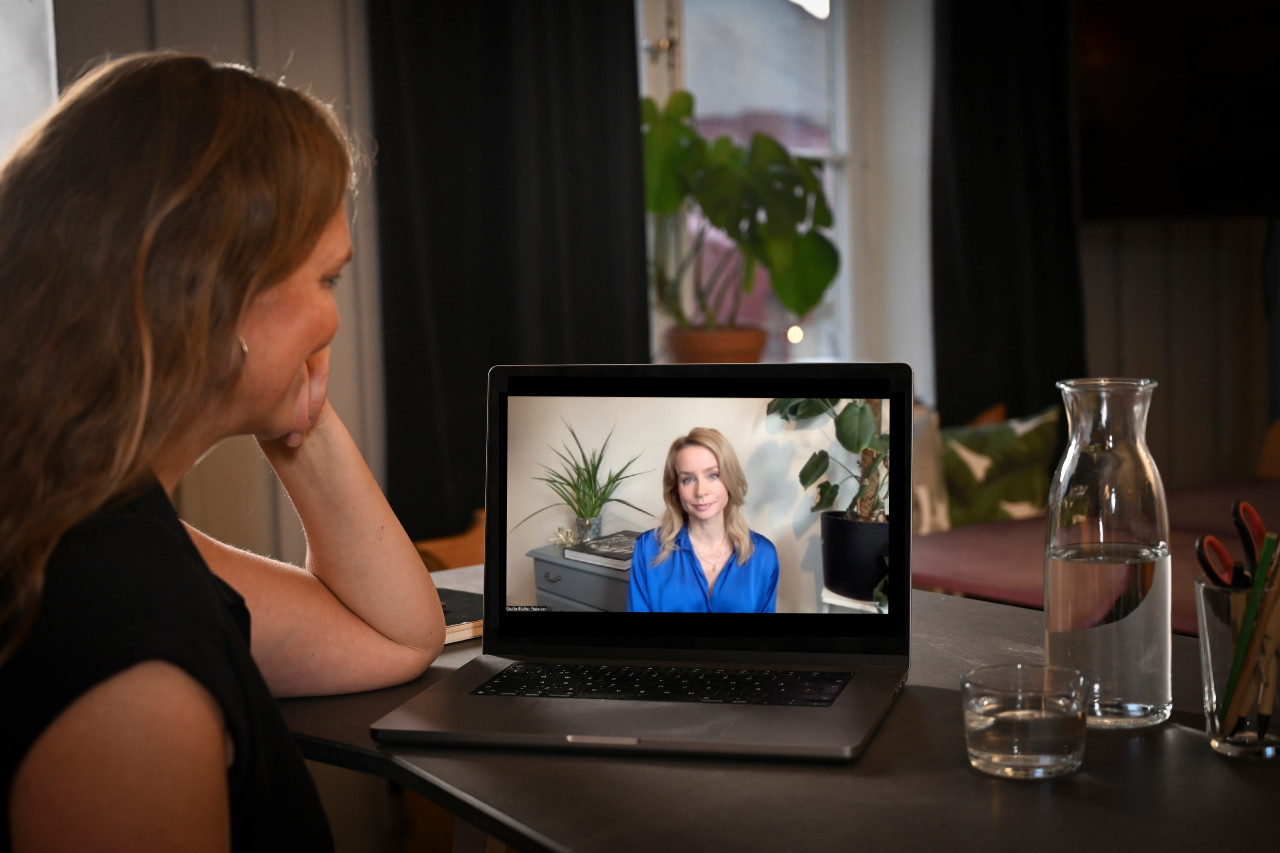 Storasyster is a Swedish organization working actively against sexual violence and with trauma treatment for victims of sexual abuse. General secretary Cecilia Bödker Pedersen joined GLOW4equalitys group coaching program in 2020. Sharing a global commitment through the sisterhood in the group is a strong takeaway that Cecilia highlights, as well as defining a long-term goal leading to specific actions on the organizations impact measurement.
Storasyster work in three focus areas: Prevention, Support and Advocacy. They have a dozen full-time employees, about 140 volunteers and annually provides support to more than 2.500 victims of sexual violence. Cecilia is the spokesperson for the organization, leads the organizations development, finances and staff.
- The biggest outcome from the coaching program for me personally, is the relationship with the women, Cecilia describes. A relational value, with women around the world working towards gender equality. Storasyster is working in Sweden to end sexual violence on women and that can sometimes feel lonely, so it was really powerful to meet other women from around the world that is working towards the same goal, to end men's violence on women. To get proof that, that you are not alone, and feel the international sisterhood was powerful to me. We are not small islands working to prevent violence against women but a bigger international community, doing this work together.
The women GLOW4equality coach are all dedicated to different gender equality issues, groups are themed and align under UN Sustainable Development Goal (SDG) number 5, Gender equality. The coaching group Cecilia attended, with women representing Kenya, Nigeria, Sierra Leone, Canada, India and Sweden, joined around the theme "Eliminate all forms of violence against all women and girls", SDG target 5:2. Coach Pia Moberg led the process throughout the six-month structured program, coaching the women and leading the group. In the beginning of the coaching program each woman is coached to set a long-term goal, within about 2-5 years as well as a short term "process goal" to reach by the end of the coaching program.
- I was coached to define and set goals with a view towards a long-term higher goal. That is something that has been really good in my working situation, a hectic everyday life where things "fall on me", Cecilia describes. Prior to this program I have not really taken the time to set goals. GLOW helped me with that, prioritize time, setting a six-month plan, steppingstones towards that aligned towards a long-term end goal. Getting that job got done!
- We got going with our organizations Impact measurement and have done so in a structured way since. We have a completed Impact report, which was one of the goals, and that definitely came out of GLOW, says Cecilia. We are really close to our target group, our clients, and see the result from day to day. Now talking about the positive impact Storasyster makes in society, especially talking to people outside our field, we can be more precise in what we do, why we do it and how that will help in the bigger picture.
Women from around the world are represented among the participants in the groups and the intercultural perspective is a key part of GLOW4equalitys group coaching program, something Cecilia valued and highlighted.
- Attending the coaching program was a empowering experience, Cecilia says. One reason I applied to the program was that I saw a good opportunity for international networking. And since we mainly work in Sweden and Swedish, also practicing my English - and I have become more comfortable talking about Storasyster in English! The overall experience of the coaching program was evolving and inspiring, Cecilia describes.
Read about the organization Storasyster, read other Impact Stories or look in to the details of GLOW4equalitys coaching program.